What You Need To Know About Trade Shows
Trade shows are where your going to get into the world of selling from your business to another business (B2B). The vendors / sellers will be forking up money to display their products in a booth to present to potential buyers. The buyers will be buying products for their shops or warehouse at wholesale and distributor prices. It all sounds a bit boring but it is the opposite. These shows are where you can actually make some decent money in a few short days. But what do you need to know before then and are you ready?
The real place to begin this is talking about knowing when your ready for such shows. If you haven't been selling to your local shops for at least over a year, then your more then likely not ready. The thing about wholesale alone, is that you are selling products at a much lower price. This means you are going to want to have plenty of inventory in stock before even considering a trade show. A good rule of thumb we like to go by is, if your booth costs $2,000 (because that is the average price of a full size booth at trade shows) then you should have AT LEAST $20,000 worth of product in stock (not all of it need to be at the show but ready to ship). Ideally you want your booth to only cost 10% of what your inventory is. Plus you have many other expenses just to get there and be prepared.
Now is that inventory price reasonable? Maybe not to a solo artist, but for a business with multiple workers it would be perfect. The sad thing about some of the shows is that they will solicit you into attending by building your hopes up much higher then reality would have it. So be careful of the unpleasant shows. The way you know if it won't be good is if they are trying to sell you on buying a booth instead of you going to them and wanting to buy it. ALWAYS remember, you know what you really want at the end of the day, so don't let someone sell you into a huge commitment like this. It has happened twice with me. One show I will never go to again or recommend. The other one was just way out of my league.
One of the best things I learned the hard way is, attend the show as a guest first. Check it out and see what you think. Ask the vendors what they think and how the show is treating them. Oddly enough, depending on your industry, the show will be effected by the location and time of the year. There are many trade shows and some are located in states that the buyer prefers to go to. Or they prefer to go during a certain time of the year (usually around summer). Time and time again, you won't have a good understanding of what to expect until you check it out. Maybe try a few shows during different times of the year.
This is a commitment unlike most things you will ever purchase for your business. Once you pay for it you are committed and unlike a piece of equipment, once its done and over, its done and over and your not getting it back. Okay, say you have plenty of inventory to abide by my 10% rule. You still want plenty of time to prepare (3 to 6 months). You have a booth to design. A sales pitch you should put together. And who is going to be there to help? I have done about four trade shows on my own and one with help. I wish I had someone at all of them so I could at least leave to go to the bathroom and not worry about missing a passer by.
Even if your design is only about how your products will be laid out, it matters and is worth being prepared for. Another thing is how do you get all of your stuff into the show? Well you can pay the show lots of money to do it. Or you can get a big rolling box to put everything in, and bungie tie a folding table on top of the box so you have extra vending space without having to pay for their tables too. And lets not forget all of the unforeseen stuff to get there. Are you going to fly or save money by driving? Where are you going to stay. If you fly are you renting a car or using a ride share service. You and everyone with you needs to eat. Business cards, catalogs, and signs... There are so many things besides just your booth to worry about.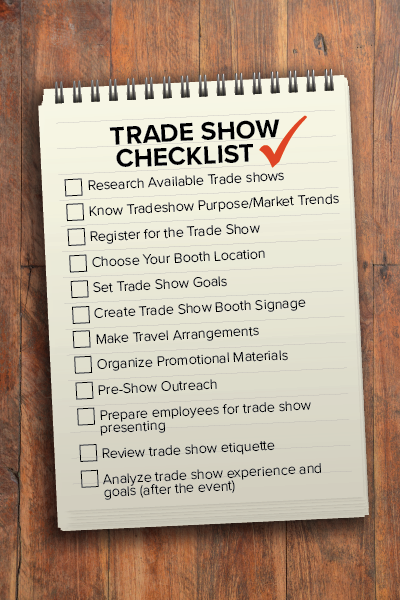 Now if you have never had a sales job and learned about having a pitch and all the other tricks, I highly recommend you get a job doing so. When you have a sales pitch you simply know your plan of attack on how you will grab the buyers attention and funnel them into an actual sale. With so many buyers all around, you need to be on your feet in the walk way and loud! Dress to impress. Don't forget that welcoming smile
🙂
and friendly attitude. I know I make other sellers around mad because of this tactic of grabbing their attention instead of letting them pass both of our booths and hope the product sells it's self (it rarely does sell it's self). But then again, if you are an outsider like ceramics going into an environment full of an established glass industry, almost nobody is going to like you. Real talk.
Lets do a quick loop of what to do before you commit to a trade show as a seller. Travel to the show as a guest before buying a booth, buy a booth to a show you visited and like, have tons of inventory, plan your booth layout and sales pitch at least 3 months in advance, set up all accommodations, and figure out all other unforeseen things. It is a huge commitment and if I were you I would avoid it until your business has grown beyond just you and your one man/women army. And to end off, if you are in my industry of pipes then let me recommend one and only one trade show to you. Champs Trade Show
If you ever want to go to this trade show, I recommend you consult me first so we can get you prepared with a few more personal tips and to ensure it is the right investment with where your at. I have had a few bad experience because I didn't have someone to consult with and I would like to make sure you don't have to face those same situations. I do have many plans towards 2021 and beyond to go back to this show with a bang and you might want to get in on it with me. Until then, here is a picture of one of my artisan booth setups at my 4th ever trade show.
They used to provide these $700 booths to artists. But I think after my second artist booth at Champs, many complaints about me (you know loud and in the walk way getting them sales) and now nobody can buy the cheap booths unless you are blowing glass in their event
🙁 this made me sad for several reasons. But boy could I tell you some stories about the disrespect I've received from people in this industry! You do run into a few great people too. Remember, as a ceramic pipe maker, you should take it into your own hands to be the bigger person and be respectful no matter what! Then we won't make anyone else feel like they don't belong. We want to be the most welcoming community around!!!